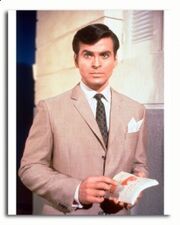 Craig Sterling
is an American agent with
Nemesis
.
Character background
Edit
Born in New York on 1st of December 1939, Craig joined Nemesis in November 1965 after serving as a US air force pilot. Craig is an intelligent man who is more likely to move on instinct rather than spend much time contemplating his possible course of action. In this respect he is different than Richard and Sharron. Craig is also one who has the plans, these are also usually thought out on spare-of-the-moment times, but he is very successful. Physically, he is the strongest of the trio, and he uses his strength many times to fight his way out of trouble, most of the time accompanied by Richard, but Sharron also can beat up the baddies (with some accurate karate chops!).
You could say Craig is the main, most focused on (in regards to television) member of the three, but that is not to say he is the "star". All three share the time equally, depending of course on each assignment, so no one agent is the main focus in the series. The strange aspect of the two male leads, Craig and Richard, is that neither of them are what you may call "ladies men", strange because almost always in this genre of TV or film, it is a prerequisite that the lead male has to be suave and sophisticated. Craig is perhaps the man who would be closer to that description, but he certainly isn't a stereotyped 1960s secret agent. He never uses his looks, or uses women, to get information, a definite plus in the series which makes it unique in it's genre. As said above, he is intelligent, but so are the others, and he uses his vast knowledge to save himself and the others many times during the series. [2]
References
Edit